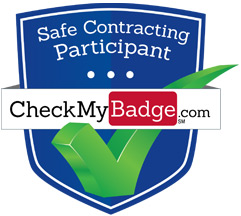 My Badge ID: C1STRA2901A0520
Be Safe! Identify Service People Before They Enter Your Home
Work only with the elite companies that take your security seriously!
Did you know that less than 10% of all service companies care enough about your safety and security to put a real Safe Contracting Program in place that you can verify?
CheckMyBadge℠  companies are part of an elite group that require their employees to go through a rigorous screening program including criminal record searches, drug tests and confirmation of driver's licenses.